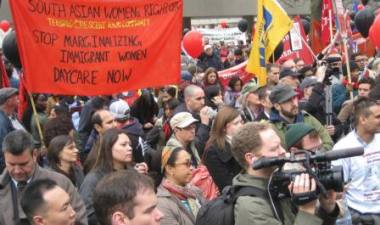 NO ONE IS ILLEGAL / TORONTO /
Refugee and Immigrant rights group, No One Is Illegal – Toronto dropped a 8m x 5m meter banner to start off the May Day demonstration on Queen's Street which read Freedom to Move, Freedom to Return and Freedom to Stay. 250 red and black balloons with the same image were also flying in the demonstration, and activists wore shirts with the same image. The night before 2000 posters with the image were put up all over downtown Toronto.
"Migrant workers are dying while working in Canada, refugees are dying when they are being deported, and Kenney and Harper just cut off basic healthcare for many refugees in Canada essentially forcing many to choose between debt and death," explains Yogi Acharya of No One Is Illegal – Toronto. "The Canadian immigration system is breeding death while what people demand is freedom to move, stay, and return home."
In February 2012, 10 migrant workers were killed and three gravely injured in Southwestern Ontario after a flatbed truck slammed into the passenger van that all 13 workers – aged 19 to 55 – had been crammed into. On April 24, it was reported that Veronica Castro, a 41-year-old Mexican refugee claimant who had been denied refugee status in Canada, kept in a maximum-security prison, and then deported was beaten to death in the border state of Coahuila while trying to escape Mexico for the fourth time. On April 25th, the Tories announced that refugee claimants in Canada will no longer be allowed to access supplemental coverage under the Interim Federal Health Program and refugee claimants coming from countries considered 'safe' as well as rejected refugee claimants who are in the process of appeal will be denied even the most basic of medical support. On the same day, the Federal Government also announced that migrant workers could be paid 15% less than the average wage for Canadian citizens.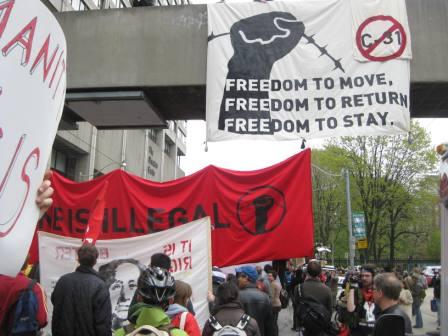 "May Day 2012 marks the 126th anniversary of immigrant worker uprising in Chicago, it marks the seventh year since millions of immigrants in the United States organized a boycott against regressive immigration policy," Acharya adds. "Here in Toronto, we have marched for six years on May Day, and this year we are joining up with Occupy Toronto, May 1st Movement and other labour and community groups for a historic day of action for refugee and immigrant rights and against Bill C-31"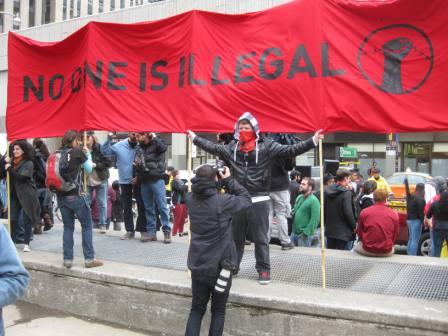 Bill C-31, dubbed the Refugee Exclusion Act creates a discriminatory two-tier refugee protection system based on nationality, mandates jail time for many asylum seekers, and revokes permanent residency from many people already granted refugee status. On March 22nd, No One Is Illegal members delivered letters to seven MPs in the Citizenship and Immigration Committee (http://youtu.be/u9jkHC5l1gQ). On April 4, Refugee Rights Day, MP offices in five cities were occupied simultaneously (http://youtu.be/p0zzG_UjyB4).
The march on May 1, 2012 marks ongoing escalation in the campaign.