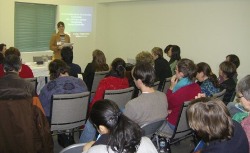 OSCAR VIGIL / TORONTO
Most are young professionals, but there are also labourers and seniors. The diverse group of newcomers who meet monthly in the basement of the Mennonite New Life Centre come from all walks of life. In this humble setting, they're working on a new model for improving the lives and outcomes of immigrants and refugees to Canada. As members of the Centre's Advocacy Committee, they're pioneering advocacy by newcomers for newcomers.
The New Life Centre launched the Newcomer Advocacy Committee in 2007 to add a community engagement aspect to their existing settlement services. Over the past three years, the committee has opened a space for immigrants and refugees to reflect and take action together on issues of employment and civic participation.
The Committee brings together newcomers from many different countries, mostly Spanish-speaking. "Newcomers face daily challenges. By sharing their experiences and strengths, they become agents of
change. Many newcomers have community organizing experience, such as union activism, from their country of origin. The Advocacy Committee offers them a new space for action in Canada," says Tanya Chute Molina, executive director of the New Life Centre.
Newcomer Advocacy Committee members support, motivate and empower each other to overcome the daily difficulties they face. More than that, they also work to confront the institutional barriers they have in common.
For some, the main challenge lies in mastering English. For others, it's accreditation of their  qualifications or access to housing. No matter what the most pressing problem is in the beginning, in the end, the barrier that limits their true integration in Canada is the same: getting a decent and well-paid job.
"Individual efforts are important, but only by working together we are going to be able to overcome these
barriers," says Adriana Salazar, community organizer at the New Life Centre, who advises the group.
Last summer, Newcomer Advocacy Committee members engaged in a Participatory Action Research process and two advocacy skills training workshops to address the structural barriers immigrants and refugees face in finding good work in Canada. The recommendations they developed through these sessions were then presented at the ground-breaking Refusing to Settle for Less forum that the group put on this spring.
"My voice, coupled with the voice of others—first in the Committee and then in the public forum—is what will eventually change our reality. This is how we are going to change history in this country," says Mario Roque.
Roque, a former radio broadcaster who came to Canada from Mexico in 2000, has been with the Newcomer Advocacy Committee since its inception. He says that the committee has been a space for expression and a resource for coping with the trials and tribulations of the refugee claim process and the challenges of building a new life in Canada.
Refusing to Settle for Less was put on by the Committee's newcomer volunteer members, with support from the New Life Centre. The forum, which brought together over 150 people representing numerous sectors, marks the Newcomer Advocacy Committee's boldest step to date in organizing for change. At the forum, immigrants and refugees joined community allies, employers, government officials and others to discuss the Committee's policy recommendations and to consider more broadly the challenges of employment and civic participation by immigrant communities.
"We hope that politicians will listen to the experiences and proposals of newcomers. The experience of getting together and meeting other people who share the same concerns strengthens us to continue the struggle for change. We know that change does not happen from one day to the next, but by joining forces we can move ahead," says Molina.
It's not only the newcomers who must become jobready, though. "It's important that we're also working to change the culture of employers and the behaviour of employers to make employers ready to accept these workers," says Joan Atlin, Director of Operations of the Toronto Regional Immigrant Employment Council, a not for profit organization working with employers, government and other stakeholders for better integration of newcomers into the labour market, and a forum participant.
Outcomes of the forum ran the gamut from agreement on a proposal to create more opportunities for paid
internships, since they're an effective way of helping employers and skilled newcomers to connect, to more political recommendations, such as bringing back employment equity legislation to require employers to make their labour force more representative of Ontario's diversity.
Forum participants delivered formal recommendations and policy briefs to elected representatives from all three levels of government during a closing plenary.
Finally, forum attendees considered the great potential of community organizing, much like the Newcomer Advocacy Committee itself, as a tool for newcomer communities to secure better outcomes for employers and new immigrants alike.
"There was good organization and good results," reports Mario Roque. "What's left now is to continue making more allies to achieve our goal [of more and better jobs for newcomers]. Many people were interested, and what we need to do now is continue what we are doing."
*More information at:  http://www.mnlct.org/story/newsletter/MNLC_NewVoices_Summer2010.pdf
{vsig}ForoPobreza{/vsig}