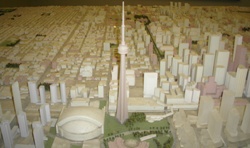 OSCAR VIGIL / TORONTO /
Nobody denies that to seek job, and to get it, is hard work anywhere in the world. But for new immigrants in Canada, this challenge can be even more difficult.
There is a well know story inside newcomer professional circles, about a Peruvian engineer named Pedro Manzano. He came with his family to Canada in 2003, and one day, frustrated with sending more than a hundred resumes and receiving no more than five responses, all negatives, decided to change his name. In the next ten resumes he sent, rather than signing as Pedro (Peter in English) Manzano (Apple in English), he just signed off as: Peter Apple.
To his surprise, he received fifty per cent of responses including three invitations for job interviews.  Believe it or not, Pedro's story illustrates the reality in the multicultural society of Canada: the labour market is still not prepared to integrate the diverse kinds of "last names" workers in the productive life. Worse, this lack of  capacity to settle new internationally trained professionals, is pushing so that the poverty in the country keeps being lived in color.
According to a Statistics Canada study released on September 2007, very recent immigrants who have been in Canada five years or less, that is, who landed between 2001 and 2006, had the most difficulty integrating into the labour market, even though they were more likely than the Canadian-born population to have a university education.
The study, named "Canada's immigrant labour market," specifically states that in 2006, the national unemployment rate for these immigrants was 11.5%, more than double the rate of 4.9% for the Canadian-born population.
The report focused on the labour market in Canada for immigrants in the core working age group, 25 to 54, in comparison with Canadian-born workers. The data supports previous reports that have shown that newly landed immigrants face many barriers to finding a job, like "lack of Canadian work experience, lack of recognition of foreign credentials and language barriers as the most severe impediments to labour force integration for recent immigrants to Canada."
The study also states that those immigrants were more likely to have a university education than Canadian-born men and women in 2006. "While 36% of immigrants in this age group had at least a bachelor's degree, the proportion was only 22% among those born in Canada," said.
"However, while unemployment rates for Canadian-born workers were lower for people with progressively higher levels of education, rates for very recent immigrants remained high regardless of their level of education," added.
Those barriers faced for internationally trained professionals when they came to Canada, frequently pushing them to live under the line of poverty, limiting their possibilities to live a real healthier life in their new country.
Trying to work out this problem, on December 1993 was implemented the Act to Provide for Employment Equity for Aboriginal People, People with Disabilities, Members of Racial Minorities and Women. To a great extent this was the result of a long struggle by communities and individuals to promote access and to secure some sort of stability for minority groups, in particular for those identified in the legislation.
This was the time when Bob Rae was the Premier of Ontario, as a member of the New Democratic Party (NDP) and when some social programs were created or others reinforced in the province.
As a community worker concerned with the issues of economic marginalization, Duberlis Ramos was there when the legislation was passed, he was even one of the witnesses who signed the new declaration.
"Unfortunately, the implementation of the legislation was too short lived and there was no time to see its actual effects. Hence, we could say it was not too helpful in a narrow sense. However, I would suggest, in spite of the backlash, that the mobilization that took place served to establish that at least among certain immigrant groups there was an emerging awareness of the issues, and what may have been otherwise by legislation direction could be promoted from a perhaps more naïve perspective as a 'best practice' at least. Indeed, the failed legislation served among many immigrants to raise their consciousness in regards to some of the work needed to be done in Canada," Ramos said.
The postscript for this short-lived legislation is that upon the subsequent election of Mike Harris and the Ontario Progressive Conservatives in 1995, one year after the Employment Equity Act had been proclaimed into law it was dismantled.
Now, employment equity has worked its way back into conversations between labour and immigrant groups who have banded together in the Colour of Poverty Campaign (COPC). The goal: to implement employment equity policies to encourage employers to ensure equitable representation of diverse groups in the workplace.
At this moment, the COPC, a coalition of advocacy and human rights organizations across Ontario, is still just a campaign, but some good things are already happening. On December 4,2008, "Breaking the Cycle – Ontario's Poverty Reduction Strategy" was published for the Government of Ontario.
Ramos, Executive Director of  the Hispanic Development Council, is now member of COPC, and he explains that with that declaration they have seen the first anti poverty frame legislation in Ontario with the specific designation of minorities as groups to be covered under such legislation.
The initial focus of this strategy is on breaking the cycle of intergenerational poverty by improving opportunities for children, particularly through the education system, but one of the premises of the declarations says not all groups of people share the same level of risk of poverty.  "The poverty reduction strategy must recognize the heightened risk among groups such as immigrants, women, single mothers, people with disabilities, aboriginal peoples and racialized groups," state.
More recently, on October 1st, COPC formed a press conference to announce they are recipients of a $255,000 grant from the Ontario Trillium Foundation. The money "will be used to help undertake a province wide project to address poverty among racialized communities".
In the launching, Roy McMurtry, former Chief Justice of Ontario, mentioned how important this juncture was, enshrining in legislation elements that would facilitate not only access to employment, but also promoting the conditions to deal with young people and education so that they can eventually thrive in the system.
But more directly, when the whole campaign was launched, Avvy Go, Clinic Director of Metro Toronto Chinese & Southeast Asian Legal Clinic (MTCSEALC), said they call the Colour of Poverty Campaign "because today in Ontario, those who are poor are most likely to be people of colour. While there has been increasing awareness among the general public about the growing disparity between the rich and the poor, few people realize that poverty in this province impacts communities differently."
Seeing those issues, asked if is possible to have a new good legislation for equity for immigrants in the next months, Ramos said: "Quite frankly… no. This is a very politically charged discussion and employment equity I think, will have to wait for a little while. I think the experience and echoes of 1995 are still there. In some ways it is said that in the middle of a recession this will be even a greater challenge."
"I suspect, he added, that although this is something that we would like to see happening very quickly we have to do a lot of work. And I also wonder from a more personal reflection angle if this is the only way to go about it. At the end of the day I look forward to the conversations that will take place about this in the immediate future."
Maybe Ramos is right, maybe those steps are still not enough, but obviously they are in the right direction: to ensure the poverty will not be racialized. In others words, to ensure that professionals like Pedro Manzano will not have to change their names into English to get a job, and a god job, in the area in which they have enough education and experience.