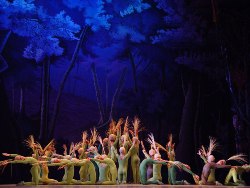 PASTOR VALLE-GARAY / HAMILTON
Mark your calendars. The performances of the classic ballet Hansel and Gretel by the Cuban National Ballet and the Canadian Ballet Youth Ensemble at Hamilton Place on February 26 is shaping out as a truly emotional, unforgettable event.
Get your tickets while still available. Hansel and Gretel is destined to become a most joyful, rousing homecoming after the wildly successful Cuban presentation of The Nutcracker by the young dancers with the Canadian Ballet Youth Ensemble.
The timing could not be better. With its central theme on family values and family unity the classic ballet Hansel and Gretel is the perfect vehicle to illustrate the values held by the CBYE family. Thus the lavish production is at once a tribute to the children's achievements while it honours the sacrifices, the dedication and the commitment of parents, families and volunteers whose untiring efforts and long hours made the Cuban trip possible and turned it into a most passionate and rewarding family experience.
In effect, Hamilton Place and Hansel and Gretel have become the perfect venue for parents, families and ballet fans in the Hamilton area and elsewhere to showcase once again the family values which everyone involved with the Canadian Ballet Youth Ensemble holds so dearly. It is also an excellent opportunity to celebrate in grand style the three brilliant presentations of The Nutcracker by the Cuban international stars and by our local heroes at the world-famous Gran Teatro in Havana in January 2010.
In Havana, it was standing room only. Tickets for all three performances sold out in one day. The Cuban public, among the most sophisticated ballet fans in the world, cheered enthusiastically and rewarded each performance with long, standing ovations. The Canadian children danced their hearts out and almost instantly became the darlings of the local and international media.
Practically overnight Cuban newspapers, radio and television stations, China News Service, CCTV China, the Associated Press, Reuters, the Dallas Daily News, Miami's El Nuevo Heraldo, Toronto's DEBATE magazine, Toronto Hispano Entertainment magazine, UK and Ireland News, You Tube, Yahoo, Facebook, Trip Advisor, Ballet Talk, AOL France, Florida Today and many other news agencies started publishing video clips and multiple photos of the Havana performances, prominently featuring talented 13-year-old Canadian dancer Kelly Martin in her exquisite interpretation of Clara.
It was only fair. After all a contingent of 147 parents, relatives and friends accompanied the children to Cuba. They would witness a historic event: their kids proudly taking centre stage. It was the first time that a Canadian company had been invited to perform with the professional dancers from the Cuban National Ballet in the Gran Teatro, one of the greatest ballet stages in the world. Our kids took their newly-found celebrity status in stride. Like children everywhere, they quickly made everlasting friendships with their Cuban counterparts, members of Cuba's Cátedra de Danza School. They rehearsed impeccably their roles, shopped for souvenirs, discovered Old Havana and enjoyed every minute of the tour.   
The Havana performance culminated two years of planning between Hamilton's Belma Gurdil-Diamante, CEO, The Canadian Ballet Youth Ensemble, and Prima Ballerina Assoluta Alicia Alonso, founder and artistic director of the Cuban National Ballet. "We could not have asked for a more successful trip and we could have never accomplished it without the unconditional, wonderful support of the families," said Ms. Gurdil-Diamante. "We have started something beautiful and hopefully it will continue for years to come." Madame Alonso was just as thrilled. "The Canadian children's participation was absolutely marvellous, a truly inspiring performance. It is indeed a loving message of peace to a world that really needs peace. It is pure of heart, of mind, of movement and it reflects the best and most enduring qualities of ballet."
Such praise is well-deserved. The children from both nations got along famously. In spite of language barriers they rehearsed together, they played together, they laughed at every opportunity, they performed beautifully and when the final curtain came down, they celebrated their accomplishments together with unbridled enthusiasm, as every child has every right to do. It makes you wonder: if diplomacy were left to children -regardless of ideologies, cultural differences, social or linguistic barriers- the world would certainly be a much better place to live and the family would be at the centre of it. .     
On February 26 the public has a date at Hamilton Place. To reaffirm those family values. To pay tribute to their talented young dancers when they join once again with the stars of the Cuban National Ballet and stage the classic ballet Hansel and Gretel, this time under the direction of another rising young Cuban star, choreographer Eduardo Blanco.
If the loving, extraordinary embrace graciously extended to our young artists by the Cuban people is a sign of things to come -and there is no doubt that Hamiltonians and fans in the surrounding areas will be in a celebratory mood and most anxious to welcome home their kids- tickets for Hansel and Gretel will be at a premium. After all, it is quite a unique opportunity to enjoy their phenomenal success in Cuba, to honour them, and to share one again in celebration of the families values held in such high regards by everyone involved with the company. Hansel and Gretel fits the bill beautifully.   
There will be two performances of Hansel and Gretel on Friday, February 26: a School Matinee at 10:30 AM, followed by a Public Presentation at 7:30 PM. Both events will be held at Hamilton Place. To order School Tickets go online at www.cbye.ca.
For the evening performance call TICKETMASTER (905) 527-7666 or go to www.ticketmaster.ca. For more information visit www.cbye.ca
*Senior Scholar, York University