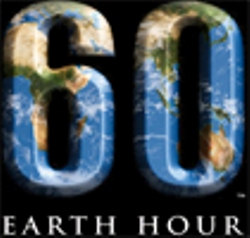 TORONTO
On March 27 at 8:30 pm, hundreds of millions of people around the world will turn off their lights for an hour to demand action on climate change. But that's just the beginning. Every hour, Canadians are taking small steps to lessen their impact on the environment. From hanging your clothes to dry to taking transit to work, those small steps add up to huge changes for the better.
Follow these steps to make the most of Earth Hour…
– Take a stand and pledge to turn off your lights on March 27 at 8:30 PM.
– Spread the word. Last year 52% of adult Canadians participated. Let the other 48% in on the fun!
– Have a romantic candlelit dinner for two.
– Play board games with your family.
– Dance under the stars!. – Or find an event in your city.
Making Every Hour Earth Hour
Turning off lights on March 27 is great, but we can all make a difference for the environment 365 days a year!
Here are five easy ways you can start:
   1. BYOB: Bring your own bags. Instead of using the grocery store's plastic bags, bring your own re-usable cloth bags. These not only help the environment but are much more durable.
       
   2. Leave the car at home. If you have an errand to run close by or drive the kids to school , consider walking instead. You'll feel better, get more exercise and will help the environment by reducing your carbon dioxide (CO2) emissions. If walking is not an option, take public transit. Either way, you will save on gas.
       
   3. Hang dry your clothes. Instead of using your energy-guzzling dryer, hang up your clothes to dry either outside in warm weather, or in your laundry room in the winter and on rainy days.
       
   4. Eat local. Local food is grown close to where it's being consumed, so it doesn't travel thousands of miles to reach our plates. Go ahead and fill your plate with yummy local fruits, vegetables and packaged foods.
       
   5. Get CFL light bulbs. When your old light bulbs burn out, replace them with compact fluorescent lighting (CFL) bulbs. They last longer and use far less energy.
       
Did you know…
    * The first scientific article linking the burning of fossil fuels to global warming was published in 1896 by Nobel Prize-winning scientist Svante Arrhenius.
    * Levels of carbon dioxide in the atmosphere are higher today than at any time in measurable history.
    * More than 80 per cent of global warming gas emissions come from energy production and use.
More information at http://wwf.ca/earthhour/