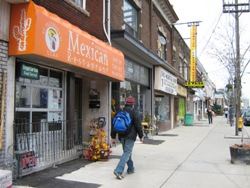 Toronto. Recently the Toronto Transit Commission released a report which detailed the problems which have plagued the St. Clair West exclusive right-of-way construction. The report however merely scratches the surface of the problems with the project as it was conceived and implemented. In doing so it increases the likelihood that these problems will recur on similar "Transit City" lines slated to be installed on major streets across the City. Ignoring these additional important lessons will only increase the likelihood that they will be repeated on future Transit City projects. Among these lessons are:
Public consultation was handled very poorly, much worse than the report suggests. Public consultation should instead be a collaborative process in which legitimate residents' concerns are taken seriously, not merely dismissed as "anti-transit." The report states that decision-makers were "far too accommodating" of the concerns raised by the community. In fact, a robust and appropriate community consultation process should have been in place, taking residents' concerns seriously and striving to address them. Public consultation should not mean simply informing residents what "done deal" has already been put into place for their community, but should instead be an intelligent dialogue about any legitimate concerns.
The Project doesn't significantly improve transit service. Future projects should not be ideologically or politically driven, but instead based on a solid business case and cost-benefit analysis for improving transit. By the optimistic TTC projections, this project was expected to achieve an improvement of 30-seconds per average trip. Many of us who have rode the line since its reopening are convinced that even this paltry improvement has not been achieved. Although, admittedly, the exclusive right-of-way on St. Clair has strong symbolic value as a demonstration that Toronto is a City that encourages public transit, $106 Million is an unconscionable amount to spend on what amounts to a symbolic gesture.
The Project has serious destructive impacts on the local community, which were never taken seriously by the proponents. These concerns include the narrowing of sidewalks; the elimination of on-street trees; the increase in local traffic congestion; and, the elimination and reduction of St. Clair's strong European-style "patio culture". Emergency Vehicles have also been greatly reduced in their ability to respond to local emergencies, with response times increased as Fire and Ambulance services have to avoid St. Clair entirely. (Deputy Fire Chief Bob Leek called the St. Clair right-of-way "unsafe" in a detailed 20-page report). This is all in addition to the fact that the construction process has been an unmitigated disaster, taking years longer than was promised and disrupting the local community massively in the process.
The report is nonetheless, a pleasant and overdue vindication for those us who have been raising these same concerns with the design and implementation of the project dating back to 2002. The ardent supporters of the project on City Council and in the bureaucracy have finally admitted that the community's concerns were valid all along, even though they denied their existence strenuously in the face of all evidence to the contrary for the better part of 5 years.
Upcoming Transit City projects are far larger and more complicated than St. Clair has been. Although it is a step forward that after 7 years of denials the proponents are finally admitting major mistakes were made, we can't have any confidence that future projects won't be similarly disastrous given that this report seems only to gloss over these mistakes. The problems with St. Clair raised in the recent report were in fact, merely the tip of the iceberg.
* Councillor of Toronto