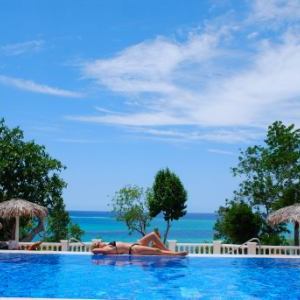 PASTOR VALLE-GARAY / LA HABANA
Guardalavaca, Cuba – Anything can happen when eight individuals barely acquainted with one another book a tour to a destination previously unexplored in Cuba, the Caribbean's most beautiful island. Initially everyone wondered what the experience would be like. However leaving all inhibitions behind at Toronto's International airport proved to be an effortless task. The group's festive mood quickly dispelled any and all reservations.
By the time the flight reached Guardalavaca, in Holguin Province, the Canadians were enthusiastically establishing strong friendships. They would last throughout the tour and beyond. Upon arrival at the fabulous Paradisus Rio de Oro Resort and Spa the management lavished its guests with an extraordinarily warm welcome. Violins, champagne, mojitos and tasty canapés. Such exotic mixture was bound to further cement everyone's friendship links. It also helped to dismiss as routine the tiring, one-hour long ride from the airport to the resort. The best was still to come: the astonishing natural surroundings and the fabulous beauty of the Paradisus Rio de Oro Resort and Spa became an instant feast for the eyes and mind.
The Canadian adventure started modestly enough. Eight participants. Eight nights in Holguin and three in Havana. It continued with a most unique and privileged program: two distinguished lecturers, Verónica Tennant, brilliant former Prima Ballerina with the National Ballet of Canada, published author and award-winning Producer and Executive Director of film documentaries with her company Veronica Tennant Productions, and Michael Crabb, genial raconteur, writer and